Our apologies for not keeping the blog as updated as we'd hoped to – the last month has been a whirlwind, and we're still trying to catch our breath!
The tours, overall, have been going very well.  There was a bit of a learning curve to working out and refining the logistics of each tour, but we feel as though we've reached a point where most of the wrinkles are smoothed out and have learned much about how to gracefully work around the occasional thrown curveball.
And, we're still really having fun!  Prior to starting CFA, we'd been giving quite a few tours to people in the media, and enjoyed them immensely. But we were curious – how similar or different would CFA tours be from those in practice?
Somewhat surprisingly, not that different at all. We obviously have more of a tour structure in place, and are certainly committed to caring for our guests in a professional capacity, but when all is said and done the tours have maintained a strong conversational component – we've observed that our guests feel comfortable talking with us, talking with each other, and talking to the restaurant owners who make themselves available.  The vibe has worked itself out to be equal parts 'tour' – which perhaps implies a top-down structure – and 'progressive dinner', which suggests more social interaction (not to mention lots of good food).
And, for two our guests this past month, their tour was a match-making experience!  Our best goes out to, J & J.
Under the category of 'woefully belated news', we had our van wrapped mid-July: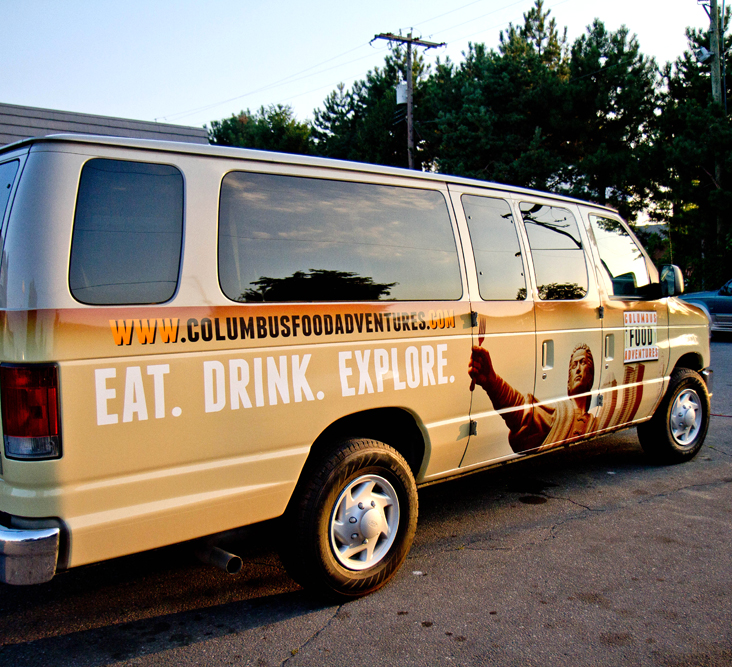 Thanks to Atchley Signs for the excellent work and thoroughly impressive customer service – they really bent over backwards to take care of our needs, and we can't recommend them highly enough.
Also under the heading of 'woefully belated' is a heartfelt thanks to the local press for the tremendous number of kind mentions we've received in the media. We sent out press releases with little expectation of what would follow, and we've been astounded and gratified by how many news sources picked it up, and even more so by the number of reporters who came on tours to flesh out more in-depth coverage.