Pizza in Columbus: it's thin-crust, it's 'tavern cut' (sliced into squares), and it meets dull heat via the crawl of a conveyor belt. It's Donato's, it's Plank's, it's… well, just about every pizza place in town. It's as much a part of Columbus as OSU athletics, but it's about as inspiring as Tressel ball.
Tressel's gone, and – coincidence, I'm sure – pizza's really starting to get interesting around here. Within the span of two weeks, a pair of defiant nonconformists have come onto the scene – Harvest Pizzeria and Element Pizza – and they're making a strong case for deviation from the local norm and… dare I say… taking a second look at how and why we consume pizza.
Think of Harvest as a 'pizza bistro' – apps, pizza, desserts, wine & cocktails, served in a tasteful yet informal environment with generous patio space. Their sourcing of ingredients is top-notch and of a local emphasis (with many vegetables actually coming from the owner's farm).  Flavor combinations are intriguing and well thought out, and inspire a measure of consideration of what you're eating.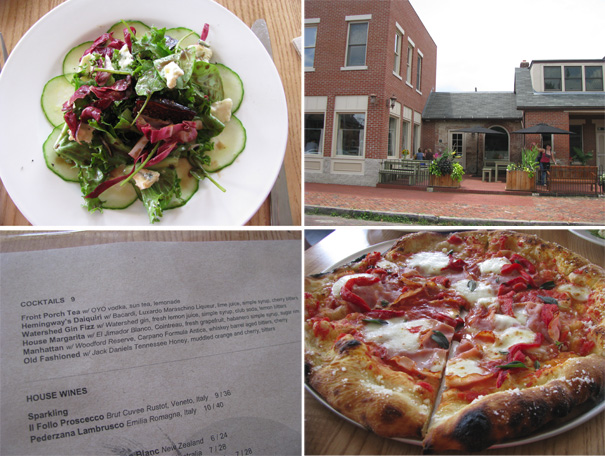 For example, see their exceptional Hudson Valley Foie Gras Torchon appetizer, served cold with crostini and Malvasia grape must in a cool eyedropper. Spread a bit of foie on the crostini, squeeze a few drops of the must on top, and take a bite. Sublime… decadently rich and slightly tangy, crunchy and smooth… and best eaten slowly, because you want it to last.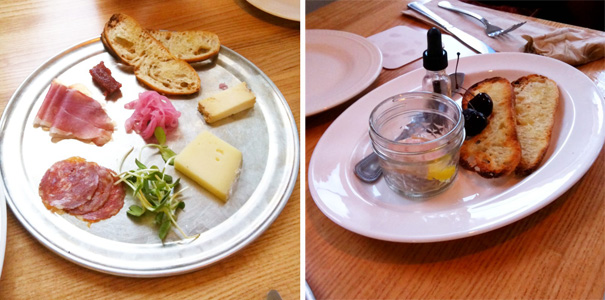 Similar could be said for the pizzas. Each is listed on the menu followed by a string of ingredients both familiar and quite novel (in my experience) to pizza – sausage paired with fennel pollen, mozzarella with aleppo pepper, havarti with chorizo, bacon with majoram, mushroom with truffle salt – just to give a few examples.
Point being, these pies might take you out of your comfort zone a bit, make you think a bit about what you're eating, and (to our minds, without exception) reward you in no uncertain terms for your choice. We've tried the Fennel Sausage, Yuma, Mushroom, Goat Cheese, and Ohio Bacon, and none were less than exceptional. Bonus points for the solid hand-tossed crusts.
Next up, Element Pizza. Think of it as Harvest as interpreted by Liz Lessner – a funkier, boho cousin. Similar goals, similar approach, a bit rougher around the edges and a good bit more economical. Element should have their liquor license and a full bar soon.
The most obvious distinction lies in the crust. While both are conspicuously hand-tossed, Element's is crunchier on the edges and a bit chewier throughout. I could imagine both having their fans, though at the moment I'd give the nod to Harvest.
Quality of ingredients is similarly important here. 'Housemade' (fennel sausage, bacon) and 'local' (hard salami, pepperoni) are unusually rare descriptors for meaty pizza toppings, and Element's pies are better off for them. On our visit we tried the 8″ personal sized versions of the Capicola (capicola, salami, parmesan, tomato sauce), Meat & Potatoes (bacon, potatoes, parmesan, olive oil), and the House Sausage (sausage, roasted onion, parmesan, tomato sauce).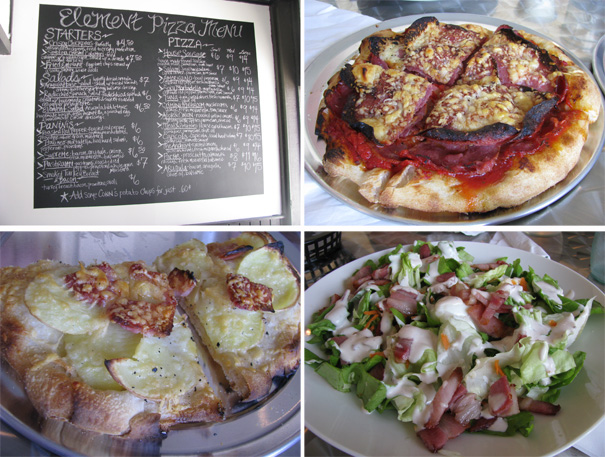 Loved the Capicola, enjoyed the Meat & Potatoes (a bit starch-heavy if you think of it as a pizza, but reminded me of the delicious potato breads Benevolence used to sell), and was less than excited about the House Sausage. Both the Capicola and the House sausage had Element's potently tangy red sauce, but only the Capicola's toppings could stand up to its unusually strong flavor.
We also tried the 'Element Salad', essentially a Caesar salad with bacon, mozzarella, and a poached egg on top. Enjoyable, and clever in its inventiveness, but some may miss the expected pop of anchovy.
Take the above lightly – we stopped by Element within the first hour of its opening day, and given that, they were impressively together. We're looking forward to returning soon.
So, while we tend to think of Donatos and its ilk as an alternative to fast food, we'd consider Harvest as a credible alternative to restaurants such as Black Creek Bistro and Basi. Element fits in nicely (both in terms of price and quality) among company such as Cafe Corner and Tip Top.
That's progress!
Note: we'd be remiss if we didn't show due respect for two true trailblazers on the local pizza scene: Bono Pizza and Clever Crow (now in the North Market as well as at Circus). Bono's exceptional wood-fired pizzas are still the benchmark for a top-notch crust, and Clever Crow's inventiveness in flavor combinations is every bit the equal of any of the above.
Harvest Pizzeria
495 S 4th Street, Columbus, 43215
614.824.1769
Facebook
@harvestpizzeria
Element Pizza Bar
250 N. 3rd Street, Columbus, 43215
614.232.8871
Facebook