This post is brought to you by the 100º+ heat index and 90% humidity.
When it's this hot outside, we begin to think about food differently; often our appetites diminish somewhat, and we look towards 'lighter' bites with a cooling effect. Here's what we've been seeking out to help beat the heat:
Cold soups – Barcelona is justifiably well known for their refreshing tomato-y gazpacho, we'd highly recommend checking it out there. On our last German Village walking tour we had a delicious cold soup special at G. Michael's – chilled Ohio sweetcorn w fennel, basil & apple wood smoked bacon… nice. More elusive, but worth keeping an eye out for, is my favorite cold soup of all time – a peach, ginger and sake soup from Alana's that I had a couple of years ago. Look for it on the menu when local peaches are at their seasonal peak.
Paletas – AKA Mexican popsicles are a current household addiction. They come is fruit flavors like melon, guava and strawberry as well as rice (horchata flavor), coconut, or even Oreo. Found at Plaza Tapatia and most other Mexican groceries, one packed-full-of-fresh-fruit paleta may just change the way you think about frozen treats. Watch out for the mango and chili ones – they conceal a potent spicy heat wallop!
Unsurprisingly, Mexican cuisine offers quite a few other options for cooling off, such as nieves, ceviche, and fruit cups. Nieves, found at Las Delicias, are a coarsely textured homemade treat that strikes us as a cross between ice cream and a shaved ice. Their coconut and nuez (pecan) flavors are Taco Truck Tour favorites. Ceviche (marinated raw fish served as a tostada with veggie toppings) is a favorite of ours at Tacorriendo (most days) and Taqueria Jalisco (on Fridays).  Fruit cups contain any of a number of sliced fruits and vegetables, such as unripe mango, jicama, cucumber, melon and sometimes pineapple. Traditionally eaten with lime, salt and chili powder or chamoy, fruit cups are a popular snack at the Rhodes Park soccer matches on Sundays and can also be found at some of the larger Mexican markets.

Middle Eastern appetizers are wonderful in hot weather – dishes like soslu patlican, baba ganoush, ezme and haydari with tabbouleh and olives. I like to get the cold appetizer selection at Cafe Shish Kebab on Bethel because they have a patio and fantastic bread but there are several other good Middle Eastern choices in Columbus.
Korean food provides plenty of options to chill, such as Neng myun – a dish of cold noodles in broth topped with beef, vegetables and a hard boiled egg. The version I had at Kaya (on Reed Road) had ice floating in the vinegary broth. For dessert, check out Tea Zone for their bing soo, a shaved ice dessert topped with fruit, red bean paste and ice cream.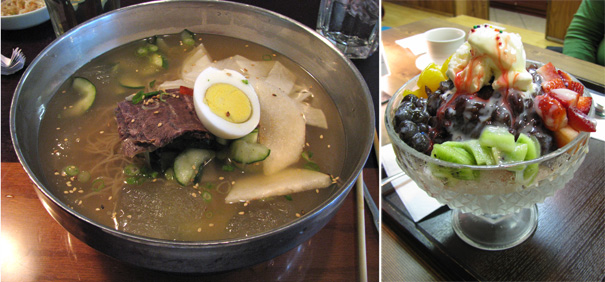 Vietnamese fight the heat with salty lemonade, frozen bubble tea and icy drinks that are as much dessert as they are a beverage. They also have a great cold noodle dish called Bún chả, rice vermicelli noodles with lettuce, pieces of spring roll and grilled pork. Solid versions can be found at Luc's, Mi Li Cafe, Indochine and Huong. On a hot day I'm very happy with a bánh mì sandwich and a taro bubble tea at Mi Li Cafe, one of the popular stops on our Alt.Eats tour.
Thai's enjoy a variety of salads including green papaya salad, beef salads and, at Westgate Thai, this LapKai – marinated chicken with ground roasted rice, lime, coriander, mint and spring onions. The temperature may be cool, but the spicing can be fiery. Fresh spring rolls (c0mmonly found at Vietnamese and Thai restaurants) are also a nice cold summer snack.
The Japanese have a number of cold noodle dishes that make for great summer fare, perhaps the most common is zaru soba, cold buckwheat noodles served with a light dipping sauce. Sometimes a green tea flavored soba noodle is also offered (cha soba). Both are offered at Kihachi year round. Other cold noodle dishes such as Hiyashi soba may appear as specials on Japanese menus at this time of year.
It's obviously a popular time of the year for ice cream. If you are looking for something really refreshing try one of the dry soda floats at Jeni's or their seasonal cayo cubano float with passion fruit, rum and Ugandan vanilla bean ice cream.

So, those are our picks, and we're sure we've missed plenty of other great options for beating heat through eats. What's your favorite?