Last week was a busy week of food events and fundraisers and I want to give you a little taste of each of them.
Saturday night was the third annual Oscar dinner at the Hills Market. The food and wine choices are all inspired by the movies nominated for best picture. I love the effort and creativity that is put into this event. Jill Moorhead (Marketing Director at Hills) watches each of the nominated movies scouring them for references to food and then with the list of random ingredients she and her staff put together a menu and wine pairings. This year's event was a sell out and as fun as usual with lots of banter about people's favorite movies and what should or shouldn't have been nominated. New this year was a quiz and the challenge of trying to recognize (or guess) which food and wine related to which movies.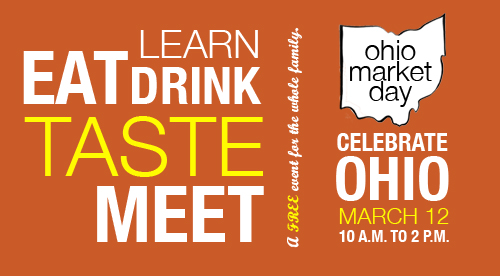 Hills have a lot of great events throughout the year including cooking classes, wine and cheese tastings and pancake breakfasts. Their next event (coming up this Saturday) is Ohio Market Day. It's a good opportunity to find some new (and delicious) Ohio food products to put on your shelves.  The event runs from 10 a.m. to 2 p.m and features dozens of vendors, over 100 prizes, free hot dogs from Boar's Head (11 a.m. to 1 p.m.) and workshops with Ohio-based culinary experts. I'll be there with information about our tours so please stop by and say hi.
On Monday I was invited to A Celebration of Wine, Food and Dining with the Stars at Spagio in Grandview. This is the 14th year that Chef Hubert Seifert and his family have held this fundraiser with the Pleasure Guild of Nationwide Children's Hospital. They bring in chefs from all over the country and the world (this year there were chefs from Mexico and Italy). Including Chef Hubert there were 16 chefs all with at least one dish to taste. It was an opulent affair with a lot of fantastic food and wine donated by nine distributors.
It was fun wandering around the different stations especially as several were in Spagio's kitchen. My favorite dish of the night (pictured above) was made by Mike Sheerin from 3 Floyds Brewpub in Munster Indiana. The dish was maple braised snails with crispy bologna and smoked beluga lentils. Also notable were Bill Bradley's cured cod cheeks with crispy lambs tongue; Allen Sternweiler's foie gras stuffed oxtail burger (one of four dishes that used foie gras); Paul Virant's crostini with mortadella mousse and ramp mostarda; Dean Zanella's ricotta frittes with blood orange marmalade  and chocolates from Ghyslain Chocolatier in Union City Indiana.
This year Spagio (formerly Gourmet Market) celebrates is 30th anniversary. A wonderful achievement and a good reason to visit (or re-visit) Spagio or it's offshoot Spagio Cellars.
The following evening was Cakes for a Cause. A fundraiser for the Mid-Ohio Foodbank. The event raised enough for 16,000 meals. This is the second year of Cakes for a Cause, an event that aims to satisfy every sweet tooth and help feed those in need. The event consisted of an almost bewildering range of auctions, raffles and tickets, with lots of cakes to try and plenty of savory food too. Two Caterers provided some delicious chicken with fingerling potatoes and Jeni's had their cute little 6oz baby 'pints'. My favorite cake taste was a spiced maple bacon cupcake from Cupcake YumYum, but I don't think they won the ballot. Some of the decorated cakes were amazing. The one pictured below is breakfast for dessert by Short North Piece of Cake.
My final food event of the week was the opening of Brothers Drake Meadery in the Short North. They're right next door to Middle West Spirits and we're excited to have another new local drink producer in the neighborhood.
This week is not quite so busy – but it is Dine Originals week. You can check out some of our recommendations here, and tonight is my talk at the Grandview Heights Library.