Columbus Food Adventures is excited to announce the roster for this year's Local Foods Week tour. And, due to the overwhelming response to last year's tour, we're going to be conducting three tours this year! To purchase tickets, click here.
For those who may be unfamiliar with Local Foods Week, there are two main points to be made: a) The events of Local Foods Week have been organized by Local Matters for the purpose of raising awareness of the value of locally grown foods, and b) Our tours, as an extension of this endeavor, are designed to highlight restaurants who put an emphasis on the use of locally grown ingredients.
Here's the big good news: local ingredients make for great prepared dishes, and we're going to experience some of the best in town. These chefs know their way around the farmers markets and are exceptionally skilled at bringing out the depths of flavor found only in locally-raised foodstuffs.
Our tour stops are, in order: Skillet, Harvest Pizza, Market 65, Latitude 41, and Knead.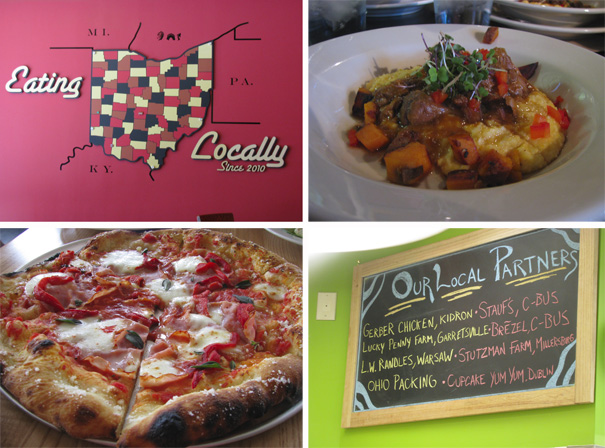 Skillet calls itself 'Rustic Urban Food' – not a bad description, actually. They use the best of what's fresh to create sophisticated and flavor-packed renditions of homespun favorites, such as mac & cheese with pulled pork, burgers, and griddled cheese on brioche.
Harvest Pizza has probably made the biggest splash of any new restaurant opening this year. People seeking their exceptional Neapolitan-style pies pack the German Village location almost constantly, and their menu entices with toppings that include produce from the owner's farm.
Market 65 is a local food fan's answer to Chipotle. You can choose from their menu favorites, or create your own salad or wrap, but you'll always know you're getting the freshest quality produce.
Latitude 41 has been quietly been putting out some of the most innovative dishes in town. Don't let the hotel location fool you, Latitude 41's quality far exceeds the typical bland expense account fare often found in such places. It's not unusual to run into Chef David Maclennan at the North Market in the morning, and it's always a treat to see what he'll be doing with his haul in the evening.
Knead wears its local emphasis proudly – a wall mural map of Ohio is marked with the locations of his area providers. A veteran of Tapatio, Crescendo and La Tavola, Chef Rick Lopez's focus at Knead is on upscale diner fare, and he does it as well as anyone in town.
There will also be a yummy take home treat from AJ at Sassafras Bakery. AJ's baked goods are all made from scratch, with local ingredients where possible – milk, honey, peanut butter, seasonal fruit and even her home-grown herbs. You can find her at Worthington Farmers market and online, but we hope she will have a more permanent home soon.
The tour starts at 6pm on October 4th, 5th and 6th and tickets cost $60. Coupons or gift certificates may not be used for this special event tour.
To purchase tickets, click here.
We can accommodate vegetarians with advance notice. If you have other dietary restrictions or food allergies please ask and we will accommodate the best we can.
Alcoholic beverages are not included in the tour price but will be available for purchase at a couple of the stops.
There are lots of other great events happening during Local Foods Week 2011.