I hear a lot about The Chef's Garden when I talk to chefs, I see photos of their beautiful produce on twitter, and last year I was lucky enough to attend their annual fundraiser for Veggie U. When the opportunity arose to visit the farm and see what they do first hand, I jumped at the chance. One of the things I love about our food tours is giving people the chance to see behind the scenes at restaurants and bakeries. At Chef's Garden I had the opportunity to learn about the workings of a world class supplier based in Ohio.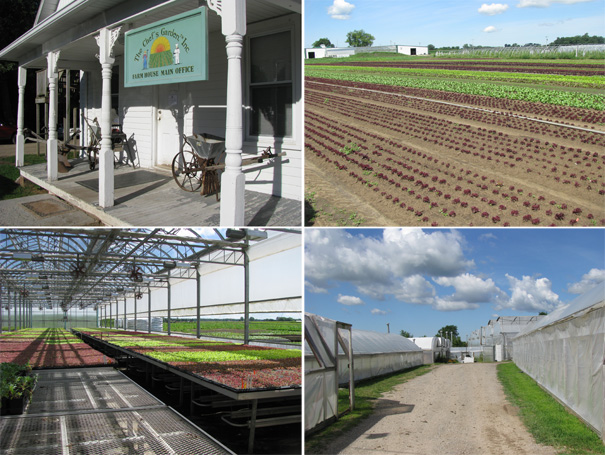 The Chef's Garden is  a 300 acre farm in Huron, Ohio owned and run by the Jones family. The Jones' started growing specialty vegetables for chefs back in the 1980s and are nationally and internationally acclaimed for their produce. They now grow around 600 varieties from seeds that come from 40 different countries. Chef's Garden combines the best of heirloom and hi-tech, old world techniques and technology. They are a family business that grows the kinds of heritage varieties that are disappearing from the mainstream but they employ two scientists on staff, routinely use DNA testing and are a pioneer in micro-greens.
The Chef's Garden supplies around 450 chefs from all over the US and as far away as Hong Kong and the Netherlands. Approximately 500 chefs a year visit the farm for education, retreats and R&D. On the day we visited there were a team of chefs from the MGM Las Vegas. Farmer Lee Jones, the face of the business with his signature red bow tie, is so well known that he's appeared on Iron Chef four times and the walls of The Chef's Garden offices are covered in signed photos from top names in the business: Julia Child, Wolfgang Puck, Grant Achatz, Thomas Kellser, Charlie Trotter and Emeril to name just a few. Farmer Lee Jones told us that they have a symbiotic relationship with chefs and they always learn a lot from their customers.
Some of the restaurants in Columbus that regularly purchase from Chef's Garden are Rigsby's, Knead, M, Latitude 41 and L'Antibes.
So why do chefs from around the country purchase from Chef's garden?
Quality and quality assurance (total traceability, high levels of food safety testing)
Baby vegetables, heirloom varieties and micro-greens – all sorts of novelty produce you can't find elsewhere. Chef's Garden will also grow almost anything they are asked to and are constantly doing R&D on new varieties
Year round production – they grow a couple of hundred varieties in greenhouses during the winter and plant lettuces 52 weeks a year.
Eight stage growth chart so chefs can have vegetables the perfect size, for example: micro-greens, flowers, baby, petite and young.
Great customer service and 24 hour delivery.
No middle men. Chefs know exactly where their ingredients come from.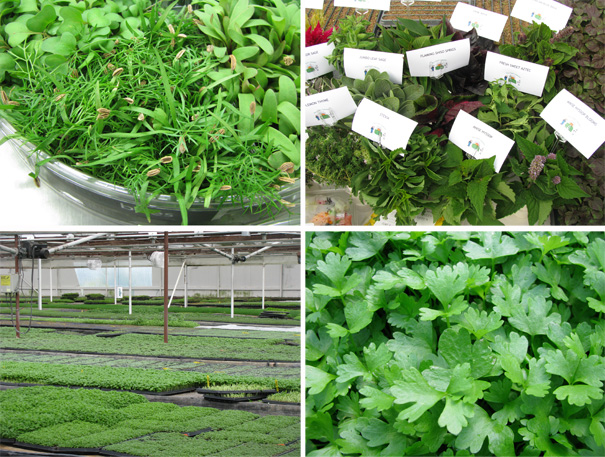 We toured fields, greenhouses and their new processing facility. My favorite area was the micro-green and micro-herb greenhouse. The range and variety of produce was staggering – Chef's Garden sells a mind blowing array of produce over 200 types of micros, over 185 herb varieties, 60 varieties of tomatoes and 11 varieties of summer squash, 10 varieties of potatoes, 4 colors of asparagus and 8 types of sweet potato. We were lucky to visit in peak harvest season and the smells and tastes were wonderful. I was also really impressed with the level of precision in everything that is done at Chef's Garden and the thought and creativity that goes into their systems and custom equipment.
The Chef's Garden is food geek heaven and I was excited to try some new vegetables and varieties. Some of the novelty items were vermicelli like garlic roots, mouth numbing eyeball flowers, root beer leaf, cucumelons, pineapple tomatillos, champagne ice beets, red noodle beans and lime green radishes. It's no surprise that so many chefs want to visit.
I was impressed by how much is available during the winter and excited to learn about their new CSA-like home delivery service with free delivery in Ohio from as little as $25.
Chef's Garden hosts Monthly earth to table dinners with visiting chefs at their Culinary Vegetable Institute. Their spectacular annual fundraiser for Veggie U is held in July each year. Learn more about Veggie U.