'Trompo' is the name for the vertical rotating spit of al pastor meat from which Los Guachos shaves glistening ribbons of pork off into their tacos. One of our favorite moments, out of all of our tours, is seeing people's faces when they first spot the trompo at Los Guachos. It's not hard to see why it catches the eye, or how it would pique people's interest. Unsurprisingly, we get a lot of questions about how the trompo is made.
It's not overly complicated, but it can be a bit difficult to verbally explain in a way that is easily understood. Since we had wanted to watch the process first hand, we went to Los Guachos to observe as they went about the daily task of assembling it from scratch. Here are some behind the scenes photos (with explanation) illustrating how pork, pineapple, and marinade are turned into the glorious mound of meat that is the trompo.
Prior to building the spit, the pork shoulder cuts (in this instance, about 100lbs in total) have been marinated for a couple of  hours in a mix of achiote (annatto) and cider vinegar. Then, construction begins: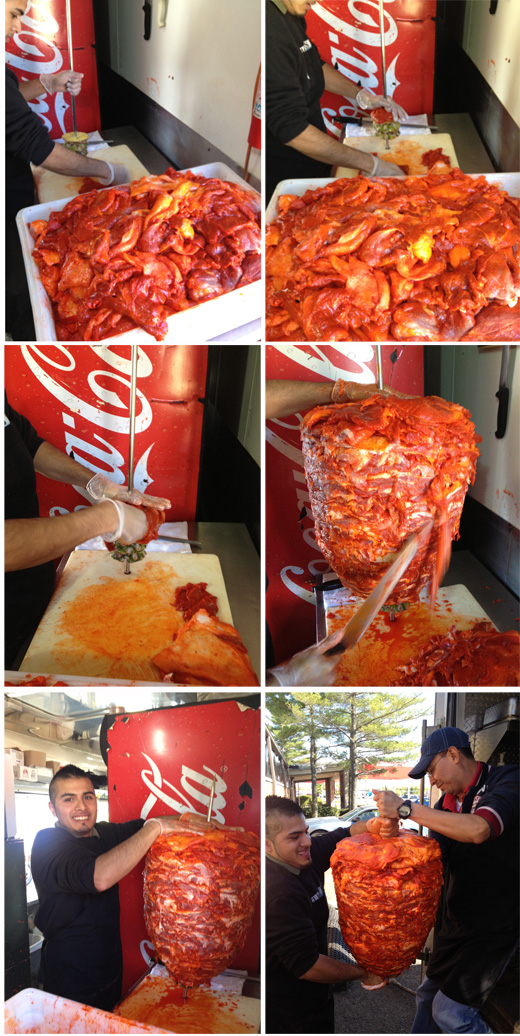 The chopping board has a specially cut hole in it to hold the spit steady and vertical as the meat is piled on. First, though, a section of pineapple is slid on to keep the pork from sliding off the bottom of the stake. The 'pastorero' (yes, there's a Spanish title for the person assembling the spit) chooses his pieces carefully, skewering the smaller cuts of meat on the spit first and then adding larger pieces as he works his way upward. Every so often he takes a pause from layering to trim and shape the trompo. At this point, any pieces that are trimmed off are sandwiched between the layers.
All told, this trompo took about an hour to build and required two men to carry and lift it into position at the grill. Hard as it may be to believe, this is a relatively small one – the largest they've made has tipped the scales at 370lbs.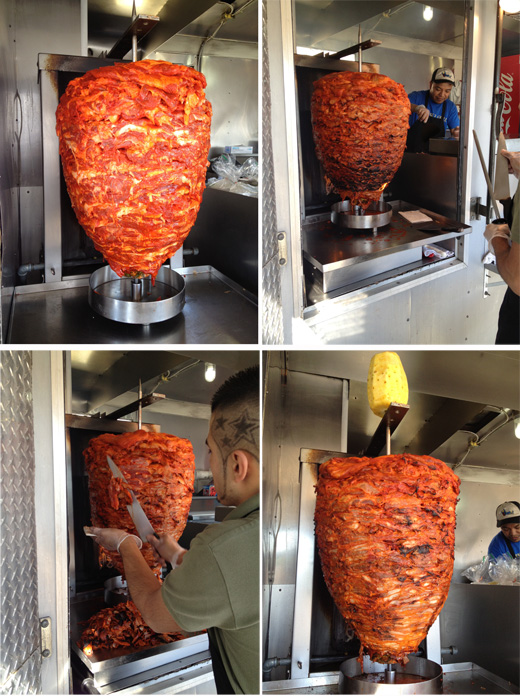 Once in position at the gas-fired roasting station, searing and trimming is done. The trompo must be shaped smoothly so that it cooks evenly, and any resulting trimmings are saved for cooking on the grill. There is a lot of skill (and knife sharpening!) involved in securely stacking and shaping the trompo. Juan, the pastorero, made it look easy but he's the only one on the team who can do it. Finally a pineapple is placed on top and the trompo is ready to feed Los Guachos' hoardes of hungry customers.
Los Guachos tacos were voted 'Best in the Midwest' by Rachel Ray Magazine and the Serious Eats team. And did we mention that this truck is one of the stops on our weekly taco truck tour?