Chat to someone in line at Thurn's, and odds are you'll find they've been visiting the store since they were a kid. Thurn's has plenty of third generation customers and quite possibly the most fiercely loyal following of any food purveyor in the city.
Owner, Albert Thurn, is of the forth generation of the family who started Thurn's as a butcher's shop in 1886. Due to the construction of I-71, the building was moved to its current location in 1958. Albert has been working in the store since he was 10 years old and knows most of his customers by name. He also knows what they are likely to order and this gives Thurn's the jovial atmosphere of an old school barber's shop.
One that sells meat!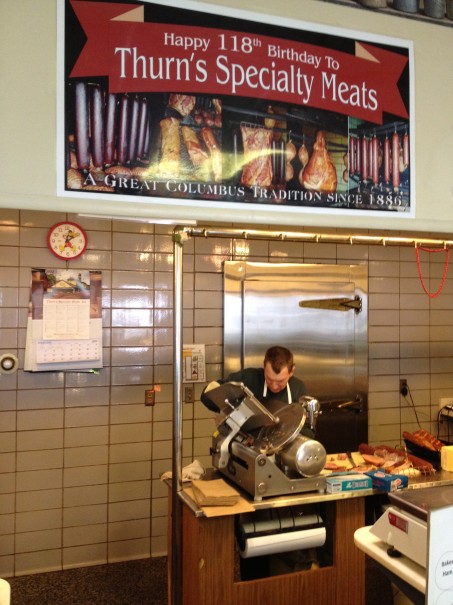 I've been a fan of Thurn's since I first walked into the store and inhaled the aroma of smoky cured meats, but attending last week's 'behind the scenes' class with Edible Columbus gave me a new level of appreciation and admiration for Albert and his operation. 'I was blessed with a good memory', Albert said, and it really is amazing the number of details that he keeps track of, with 60-70 distinct meat products, special orders, and a never ending circulation of meats being produced, cured, and smoked.
The shop is open to the public from Thursday-Saturday, but that's not the half of it – Albert Thurn must be one of the hardest working men in the Columbus food scene. An average day often start at 4.30am with a check on the fire in the smokehouse, followed by a full day of preparing meat for bacon, sausages and/or headcheese – endless grinding, chopping, seasoning, filling casings, smoking, steaming and baking. Some of the items are smoked for 30 hours. All of the recipes are in Albert's head, nothing is written down. Come 12.30am he's usually back in the smokehouse checking on the fire or adding wood. It's lucky he lives next door.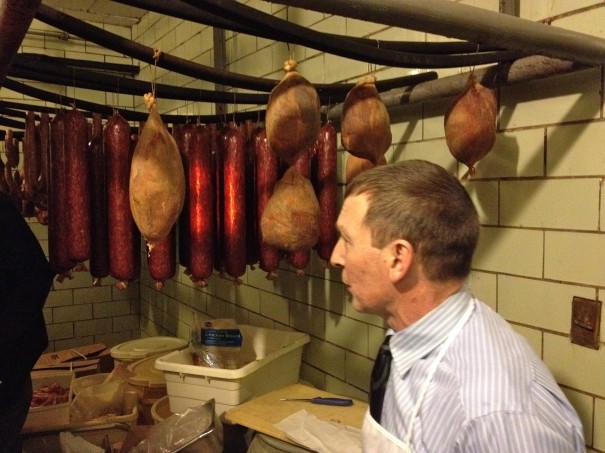 Getting a peek behind the scenes was fascinating. Some of the equipment in use dates back to the 1930s. Their specially made 200lb kettle can hold over 50 hams at Christmastime. Albert talked us through all the different cuts of pork and beef that they use and which cuts are used for which products. He laughed when he told us that for about 120 years they threw the bones away but a few years ago they realized that they could sell the smoked bones for dog treats. Producing charcuterie involves a lot of science but there's a high level of artistry too. Albert tries to ensure that seasonings are balanced so that no one spice is ever dominant. He judges the products by their color and appearance and is proud of their consistency.
All of their meat comes from Ohio farms and they have long standing relationships with their suppliers. As well as the cured meat products and some smoked fish and cheese, they also sell fresh pork items. Thurn's can do special orders and over the years they've smoked pretty much anything you can think of including bobcat(!) and caribou. During hunting season they process a lot of deer.
It is always inspiring to see someone who puts such passion and care into their work and a pleasure to be able to purchase artisan products that have so much history behind them. Thurn's really is a gem and like many gems it's a little off the beaten path. You'll find it tucked off the southbound exit ramp of 71S at Greenlawn Ave. You can visit the store at 530 Greenlawn Avenue. Thursday-Friday 8am-6pm or Saturday 7am-1pm. Note they accept cash and check only.
If you haven't visited Thurn's before here are a few of our favorites: capicola, double smoked bacon, schinken, smoked tongue, blood sausage, and smoked pork chops.
Albert is also teaching a sausage making class at the Stratford Ecological Center on Sunday February 26th.