Charcuterie Boards for Carry Out and Delivery
Charcuterie boards, noshing boards, grazing boards — whatever you call them, bountiful boards piled with cheeses, meats and accoutrements are as well suited to a cozy Netflix night at home as they ever were to a happy hour out with friends. There have never been more options available than there seem to be now, so we've put together a list of charcuterie board choices from all around central Ohio.
From your local restaurant…
Charcuterie boards are now almost a requisite on restaurant menus and there are lots of great options to be found all over Central Ohio including: Ghostwriter Public House  (Johnstown), Local Roots (Powell), Meza Wine Shop (Westerville), Hen Quarter (Dublin) and Katzinger's (German Village).
For a European touch…
Quinci Emporium in the Short North offers a choice of cheese, antipasto and prosciutto plates and have a good selection of Italian wines to pair with them. Barcelona offers two sizes of plato de charcuteria with Spanish meats, cheeses, house made olive oil crackers and accoutrements and Vaso (Dublin) also offers a charcuterie plate of Spanish meats and cheeses.
For Groups of all sizes
The Kitchen offers charcuterie boards for 1 person (pictured below) upwards as well as cheese and dip boards and Bleu and Fig offer 'Charcuterie Beauty Boards' for 2-12 people ($30-$90)
For paring with Beer
Rockmill Tavern offers a cheese and charcuterie plate to pair with their Belgian style ales and Wolf's Ridge has a little 'twist' with a fully loaded big pretzel with salami, cheese and pickles. If you're lucky you'll also find a cheese and charcuterie 'board' on their specials menu.
For future events…
We have a lot of wonderful caterers in Central Ohio who can put together wonderful cheese and charcuterie boards for your future event. Check out The Kitchen, Together & Co and Bleu & Fig. And we're always blown away by the cheese boards put together by Black Radish Creamery.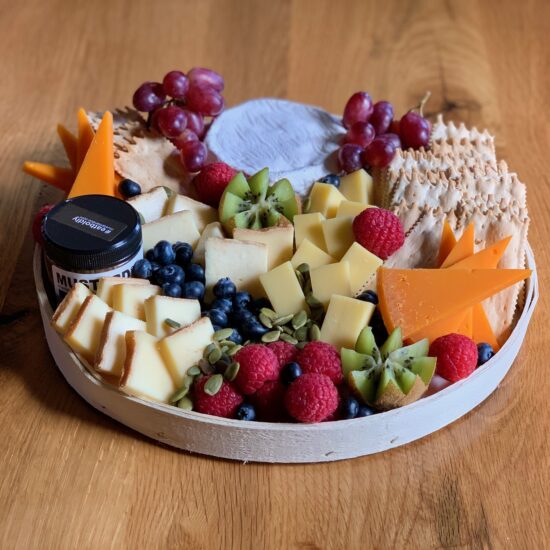 For the DIYer
North Country Charcuterie offers a variety of charcuterie kits to create a board at home, and local markets and farmers markets are great places to pick up interesting cheeses, salami and local products. We recommend the North Market (Black Radish Creamery), Butcher and Grocer, Thurn's, Weiland's and Hills Market (Worthington and Downtown).

For Delivery
There are several new services offering delivery. Sharecuterie offers a variety of charcuterie boards, boxes and charcuterie cones with a flat $5 delivery fee.  Artisan Eats offers Date Night charcuterie boxes available for delivery Thursday-Saturday starting at $40. Meza Wine Shop also deliver with a $50 minimum order.
For shipping
North Country Charcuterie ships their kits nationwide and I'd be remiss if I didn't mention our Gourmet Gift Box that will be shipping in December and includes North Country Charcuterie No 1 Salami, crackers from Weed Knob, cheeses from Kokoborrego and Blue Jacket Dairy and many other favorite local products.