Holiday Cookie Boxes in Columbus
Cookie lovers rejoice, there are a wealth of holiday cookie options available in Columbus this year, both from established bakeries and new home based bakeries that have popped up in 2020. Here are a dozen bakeries offering seasonal cookie boxes or collections.
Short North Piece of Cake
Short North Piece of Cake, a neighborhood institution for more than 20 years, is offering an assortment of bite-sized traditional favorites on their holiday plates, including Gingerbread, Buttermilk, Snickerdoodles, Lemon Bars, Red Velvet, Chocolate Shortbread, Amaretti, Pecan Tassies, Kifle, Wedding, and Kolache. At $11 a plate, it feels like a steal. Pick-up available, or free delivery for orders over $100
Auddinos
Auddino's Italian Bakery has been making breads and pastries since the 1960's. Their longevity, and their many loyal customers, tell us that they must be doing something right. If you stop in to pick up a pre-assorted box of Italian American holiday cookies, don't miss out on their donuts while you're there! Just don't confuse the "lobster tails" for seafood – these light, flaky pastries filled with sweet cream are every bit as delicious as their crustacean namesake. In-store purchase only.
Kittie's Cakes
More than just cakes, Kittie's Cakes is offering both large and small boxes of holiday cookies. Their small box includes approximately 20 cookies, while the large has approximately 40. The boxes include favorites such as Russian tea cookies, jam thumbprint cookies, buckeyes, and holiday cut-out cookies. Pickup at the German Village or Bexley locations.
Pattycake Bakery
Pattycake Bakery, known for their delicious vegan treats, is offering a variety of holiday cookies. With traditional, gluten-free, and nut-free holiday boxes available, they're one of the rare bakeries that offer options for friends and family with dietary restrictions. Cookies on the holiday menu include cut out cookies, snowballs, raspberry thumbprints, pumpkin maple chip, spritz butter cookies, and ginger-folk. Contactless pickup and delivery.
Pistacia Vera
Pistacia Vera is our go-to shop when we have friends or out-of-town guests to impress. Their macarons are the best we've had and their desserts look like they come straight out of the patisserie episode of Great British Bake-off. For the holidays, they are offering gold gift tins filled with assorted macarons or cookies. The cookie box includes candied ginger molasses cookies, chocolate chunk pistachio cookies, palmiers, and your choice of vanilla bean or three spiced shortbread. Pickup or delivery (delivery costs $15).
Dough Mama
First we fell in love with Dough Mama's pie. Then they opened a second location in German Village and expanded to include an amazing dinner menu. And now they have SO MANY HOLIDAY COOKIES. Their assorted cookie boxes (small and large) have a little something of everything, including matcha snickerdoodles, rosewater pistachio snowballs, vegan chai spice cookies, and spritzes. Available for pick up at the Clintonville or German Village locations.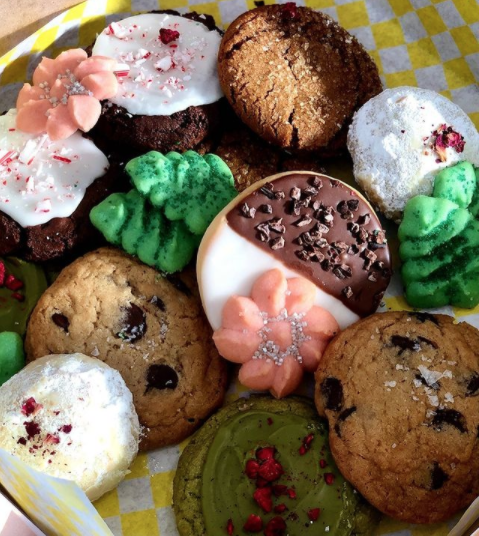 Bakes by Lo
Bakes by Lo opened up at Center Street Market this year and their 12 Days of Cookies box literally has a dozen different cookies, including gingerbread, eggnog with eggnog frosting, cranberry orange pecan, and chocolate peppermint sammies. Perfect for people who like a good variety. Better order a second box if you have to share! They also have the beautiful decorated cut out cookies in the header photo. Pick up on Dec 12 or Dec 24 at Center Street Market.
Mrs. Goodman's
Mrs. Goodman's in Worthington is offering a wide variety of holiday cookies, and if you can't choose, you can sample several kinds by ordering a "fun sized" box that contains a baker's dozen. When you place your order, you can select the quantity and style of the cookies that will be included in your box. Pick-up only. Requires 48 hours advance notice.
Angie's Rainbow Cookies
We first tried Angie's Rainbow Cookies a few weeks ago and we were tempted to order more almost immediately. These instagram-worthy layers of almond cake and jam are so moist and flavorful. For the holidays, Angie's is offering Hanukkah and Christmas bundles that come with a mixture of their signature rainbow cookies and traditional holiday favorites like walnut tassies and thumbprints. Delivery only. $10 minimum order.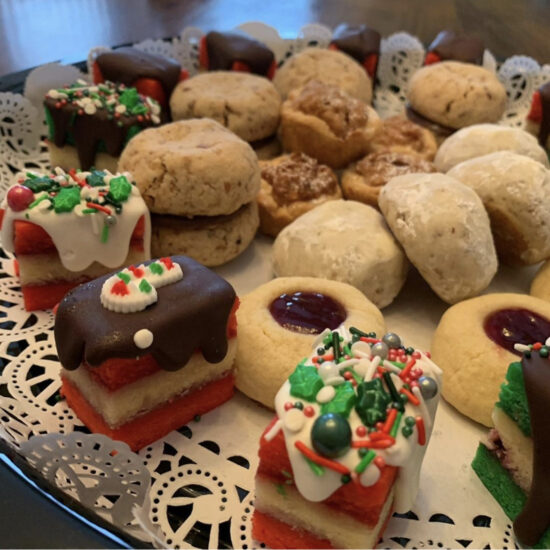 Pechka Bakery
Pechka Bakery's Holiday Dessert Boxes offers an assortment of their Eastern European baked goods, including babka knots, chocolate orange and lingonberry macarons, and pryanik (gingerbread cookies). Delivery only. Place order 5 days before desired delivery date.
Three Bites Bakery
Three Bites Bakery's December Cookie Box is a good fit for people that appreciate traditional holiday cookies but want to throw a few more playful flavors into the mix. This box includes raspberry linzers, italian anisettes, alfajores, and ube crinkles. Not your jam? Next month there will be a whole new rotation available! Delivery only. Orders must be placed 48 hours in advance.
Cambridge Tea House
Columbus' only tea house has been offering a steady stream of seasonal menus, the most recent of which was a Hanukkah menu that sold out quickly. Next up is a Christmas menu that includes a delightful-looking mixed bakery box filled with an assortment of cookies. Since this is, after all, a British inspired tea shop, the box also comes with a 'Berry happy' holiday scone. Check out their Take & Heat Christmas items if you don't feel like glazing a ham yourself this year! See Instagram for details. Pick up on December 24th.
Uncle Giant
This Filipino-influenced bakery has multiple holiday boxes available, but the ones that drew my eye have cookies I've never tried before, like tokels (Filipino Polvoron shortbread cookies, sometimes dipped in chocolate) and crispeline (described on the website as dacquoise almond wafer sandwiches with decadent and rich gourmet milk caramel made in a traditional "yema" method). Uncle Giant is based out of Newark. They have a few pick-up dates left for the Clintonville Farmers market and also offers USPS priority shipping through December 12th.
For something a little different….
Wolf's Ridge Cookie Beer
The only thing better than cookies is the combination of cookies and beer. Wolf's Ridge has three offerings, each of which pairs some of their excellent beer with a set of five companion cookies. You can choose from chocolate chip cookies paired with their Monk's Hood imperial stout, shortbread cookies paired with their Beyond Measure witbier, or gingerbread cookies paired with their Cosmo Canyon Cranberry Sauce Berliner Weisse. Delivery and local pickup available.
This blog post was written by our good friends Tania and Sam Peterson. Tania was one of our first tour guides way back in 2012, guiding the German Village tour, and Tania and Sam are both active members of Bethia's monthly cookbook club. Tania is an avid cookie baker and has won ribbons at the Ohio State Fair. For more of their food content you can follow them on Instagram at Pieareround and Taniaexlorescolumbus.