New Year's Eve and Day Dinners in Columbus 2020
Continuing with our lists of local restaurants providing ways to commemorate the holidays in style at home, our friends Tania and Sam have curated a selection of New Year's Eve dinners available for carryout.
Service Bar
2020 may have put a dent in your travel plans, but Service Bar hopes to make up for it with their multi-course "Around the World" dinner for two that is inspired by new year celebrations that don't occur on January 1st. Their five-course dinner includes a shrimp tostada, crab jahl masala, duck gnocchi, kalbi short rib, and Thai tea and mango for dessert. Also included is a double bread service—one for New Year's Eve and another for the following day. This celebratory meal compilation will be ready for pick up on December 31st and enjoyed straight from the packaging. Menu link.
Veritas
A few years ago we celebrated New Year's Eve with dinner at Veritas, and it was one of the best meals we had that year—or the next. This year, you can enjoy the celebration from the comfort of your own home, with a Veritas New Year's Eve meal kit. Each kit serves two people and includes two Snake River Farms Gold Label Wagyu NY strip steaks, crab louie salad, deviled eggs with smoked trout roe, hasselback potatoes with crème fraiche, and basque cheesecake. While some assembly will be required, Veritas promises to keep it simple so that you can focus on enjoying the evening. Menu link.
The Kitchen
The start of a new year is an opportunity to send out the old and bring in the new. We can all use a little luck in the coming year, so The Kitchen has developed a New Year's Eve menu that features foods designed to bring you long life, abundance, money, and fertility. Each two-person menu starts with a charcuterie board before moving on to a kale and faro salad with pomegranates and almonds. From there, you have a choice of red wine braised short ribs, mushroom bourguignon, or one of each. The entrees are served with three-cheese polenta and garlic roasted Brussels sprouts. Dessert is a chocolate budino with cinnamon candied pecans. For a little extra sparkle in your celebration, you can add a bottle of bubbly. Curbside pick-up is available on December 30th or 31st between 4pm and 6pm. All items will be fully cooked and will come with reheating instructions. Order link.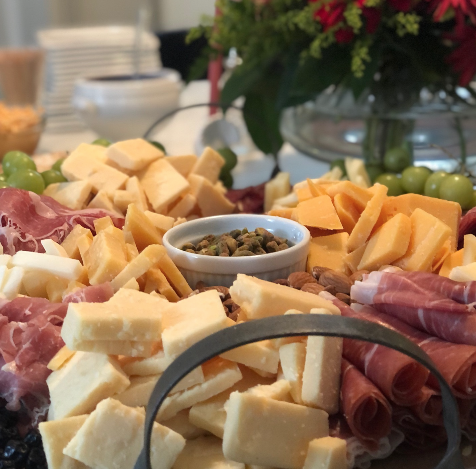 The Refectory
The Refectory's excellent service and top-notch food makes it a frequent choice for those seeking to commemorate special occasions. This year, they're helping you celebrate the new year at home. Their four-course New Year's Eve menu features imported cheese and charcuterie; a winter salad with candied nuts, goat cheese crumbles and a maple vinaigrette; a cold-water lobster tail and petit filet mignon; and opera gateau for dessert. If surf and turf is not your style, you can substitute a rack of lamb, Chilean sea bass, or filet mignon. Wine from The Refectory's impressive wine list is also available, as are specialty to-go cocktails. Order by 5pm on Dec. 24th for pick up between 1pm and 3:30pm on Dec. 31st. Menu link.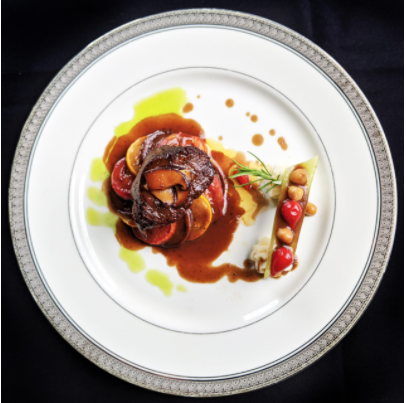 Together & Company
Over the past twenty years, Together & Company has been a go-to partner for those celebrating weddings and other big events. This New Year's Eve, they're lending you their event expertise to make sure that the night is one that you will not soon forget. Whether you're interested in sitting down to a candle-lit dinner, or just grazing on hors d'oeuvres as you wait for the ball to drop, Together & Company has you covered. They're offering two different New Year's Eve menus. One is a full hors d'oeuvres party for two featuring eight different hot and cold hors d'oeuvres, champagne truffles, and a bottle of bubbly. The other is a four-course dinner party for two that offers a choice from three hors d'oeuvres, soup or salad, and five different entrees. Each dinner comes with asparagus polonaise, hasselback potatoes, chocolate soufflé, and a bottle of bubbly. Both menus come with finishing and serving instructions. Order by Dec. 27th at noon for pickup from the High Line Car House on Dec. 31st between 11am and 3pm. More information.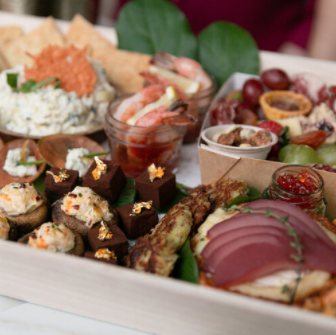 Brown Bag Deli Short North
Brown Bag Deli makes some of the best sandwiches in German Village, so we were quite excited when we heard that they were teaming up with BrewDog to bring those sandwiches to the Short North.  The two of them have teamed up a second time to put together a New Year's Eve appetizer box for two that features burrata with roasted cherry tomatoes and pesto, blueberry balsamic goat cheese crostini, French-onion dip with chips, charcuterie kebabs, bacon, dill, and chive deviled eggs, firecracker meatballs, and fruity chicken salad sliders.  And because no New Year's Eve would be complete without a celebratory beverage or two, each box includes a mystery four-pack cans of beer from BrewDog.  Pre-order for pickup on New Year's Eve between 2 and 5 p.m..
Cameron Mitchell Premier Events
Cameron Mitchell Premier Events is offering multiple meal packages to accommodate gatherings ranging from an intimate cocktail soiree to a full New Year's Eve countdown dinner. If you're looking for someone to prepare New Year's Day brunch so you can sleep in, or a New Year's Day dinner designed to bring you luck in the 2021, they offer those as well. Cocktails, sparkling wine, a la carte desserts, and even noisemakers and accessories help round out their New Year's party supplies. Order by 5 p.m. on Dec. 27 for pickup on Dec. 30 or 31. More information.
Comune
The beginning of a new year is always filled with hope for good luck and good fortune in the coming months. This is perhaps never truer than this year, as many people can't wait to bid adieu to 2020. Comune has put together a plant-based dinner for two that is intended to bring luck in the coming year. Their three-course menu features braised greens and peas, cabbage rolls in tomato sauce, and semolina cake with caramel crème. The meal will come prepackaged and prepared, leaving just the reheating and final assembly to do. To-go cocktails and wines are also available to make sure your New Year's Eve celebration is a festive one. Pickup is available on Dec. 31 between 10am and 2pm. Menu link.
Alqueria
Alqueria has made a name for themselves with their inspired seasonal menu, and the casual and comfortable environment in which they serve it. Recently, they have made that menu available for carryout so whenever the mood strikes, you can enjoy it in the comfort of your own home. Although the regular menu is special all on its own, Alqueria is offering an extra-special menu on New Year's Eve. The four-course meal offers a choice between a Caesar or chop salad, an appetizer of shrimp or bacon wrapped dates, smoked prime rib or pan-roasted halibut, and red velvet cake or New York cheesecake. Also available are a wide selection of cocktails and wine to-go. Pickup is available on Dec. 31st between 5pm and 6pm.
Cambridge Tea House
Cambridge Tea House is offering a set of New Year's Day classics to help you start 2021 on the right foot. If you're looking for traditional pork and sauerkraut, or black-eyed peas and braised greens, Cambridge Tea House has you covered with their take and heat New Year's menu. They have brunch, too. For those with a sweet tooth, there is take and bake bananas foster French toast casserole. If your tastes run more toward the savory, you can choose from a take and bake sausage casserole or a bake your own quiche, filled with your choice of meat and vegetables. Order by Dec. 27th for pick-up between 11am and 2pm on Dec. 31st. Order link.
Rooh
We, sadly, have not yet had a chance to visit Rooh, but it is high on our list of places to visit once life returns to normal. If, like us, you're eager to sample Rooh's modern take on classic Indian cuisine, then their multi-course holiday tasting menu may be just what you're looking for. Their holiday menu starts with an assorted papad and chutney sampler, moves on to second and third courses that each offer a choice of enticing options for meat eaters and vegetarians alike, and ultimately concludes with a delicious sounding coconut lychee panna cotta. The per-person menu is available for carry out every night from Dec. 22nd through Dec. 31st, except for Dec. 25th. Menu link.
Smokehouse Brewing
For some people, game day on January 1st is more important than the ball drop the night before. If that's you, don't worry, Smokehouse Brewing has you covered. They have two game day focused meals to go. Their "Wing Fling" includes 60 wings, which many people (us included) believe are some of the best wings in town. If you want more than wings, Smokehouse is also offering a sampling of their barbecue. The barbecue package includes pulled pork, pulled chicken, brisket, St. Louis-style spareribs, coleslaw, and rolls. Pickup is available on New Year's Day. More information.
This blog post was written by our good friends Tania and Sam Peterson. Tania was one of our first tour guides way back in 2012, guiding the German Village tour, and Tania and Sam are both active members of Bethia's monthly cookbook club. Tania is an avid cookie baker and has won ribbons at the Ohio State Fair. For more of their food content you can follow them on Instagram at Pieareround and Taniaexlorescolumbus.