Mardi Gras in Columbus 2021
This is a guest post by our friend and former tour guide Tania Sherry @taniaexplorescolumbus. In addition to all of the delicious offerings that Tania has compiled, we have a special Carnival themed Trust Fall on Tuesday night.
I don't expect that Columbus will have its usual raucous Mardi Gras bar crawls this year and I'm certainly not headed to Bourbon Street anytime soon, but my favorite thing about the pre-Lent season has always been the food anyway. And that's something that Columbus' restaurants can tackle just fine in this particular moment. Between the king cakes, paczki, and savory Southern specials that find their way onto menus this time of year, I'm hard pressed to pick a favorite. Here are some of the Columbus bakeries and restaurants I've found so far that can help you scratch that Fat Tuesday itch:
Paczki
Wolf's Ridge Brewing is partnering with a Cleveland bakery, Rudy's Strudel, to offer apricot and chocolate custard-filled pączki for curbside pickup or home delivery, now through February 16th. Cleveland is known for their Polish food and Rudy's has been making pączki for more than 50 years, so I have every confidence that they'll be delicious. You can pick up a box of two pączki for $5 or, if you spend at least $40 on beer or food, Wolf's Ridge will throw in one of each flavor for free! Order here.
Resch's Bakery made my wedding cake and I bet they make a damn fine paczki, too. The filling comes in seven different flavors, including raspberry, blueberry, and lemon. Only available on February 16th, but you can call and place your order in advance to ensure that you don't miss out.
Campus institution Buckeye Donuts will have paczki on Monday and Tuesday. This popular stop from the Columbus Food Adventures breakfast tour will offer a variety of fruit and custard donuts.
For more on where to find Paczki in Columbus check out this annually updated guide from Breakfast with Nick
King Cakes
Short North Piece of Cake is offering king cakes made of braided cinnamon swirl bread topped with a sweet vanilla icing and festive sugars. They even come with beads and babies! You can pick between two sizes: a small that serves 10-12 people for $20 or a large that serves 20-24 people for $35. Must be ordered three business days in advance.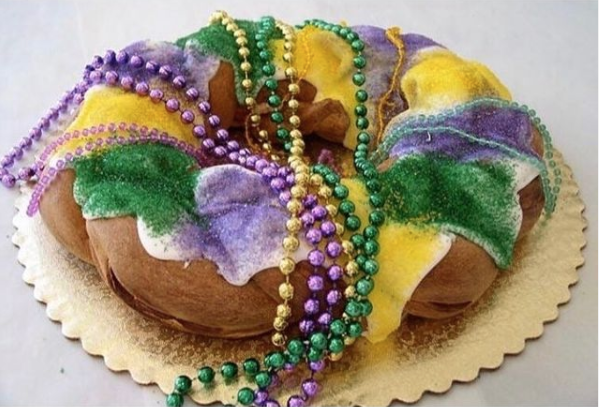 Le Chatelaine's king cakes consist of puff pastry filled with a layer of fresh almond paste that is "baked to a golden perfection." Each king cake serves 6-8 and comes in a box adorned with a crown. How festive! These $25 beauties must be ordered 24 hours in advance. Available through February 16th.
Resch's Bakery doesn't just offer paczki; they've got king cakes, too. Choose between an unfilled ring ($25) or one filled with cinnamon or cream cheese ($29). Each cake serves 12-16 people. Requires 24 hours advance notice.
The Original Goodie Shop's king cakes have a light lemon frosting and come with your choice of fillings, which include the traditional cinnamon option, apricot, cream cheese, blueberry or cherry. Each $20 cake serves 12-15 people and comes topped with Mardi Gras beads. Available to pre-order for pick-up.
The Fromagerie, a vendor at the Worthington Farmer's Market, is offering king cakes filled with both frangipane (almond custard) and Belgian chocolate this Saturday. These rings of yeasted dough are topped with vanilla icing and sprinkled with the typical colored sugars. You can also find them at North Market Bridge Park Dublin this weekend or order online.
Mardi Gras Meals and Packages
Creole Kitchen doesn't need an excuse to serve up its flavorful Creole classics. This Columbus institution serves up jambalya, etouffee, and po boys at any time of year. But what better time than the upcoming Mardi Gras holiday to treat yourself to some oysters and blackened catfish or to a hearty breakfast featuring one of their filling omelets—and of course, an order of beignets!
Le Chatelaine has whipped up a full Mardi Gras meal package for those folks looking for more than just a sugar rush. Their per-person menu includes a cup of crawfish bisque (plus a couple of crawfish on the side), a New Orleans salad with bacon vinaigrette, a sous-vide jambalaya with Creole rice, a bottle of Hurricane punch, and an individual king cake with puff pastry and almond paste. Meals are available for pre-order only and must be picked up on February 16th. Reheating instructions provided. At $50 per person, this sounds like a good value; especially since each meal even includes a mask and some beads.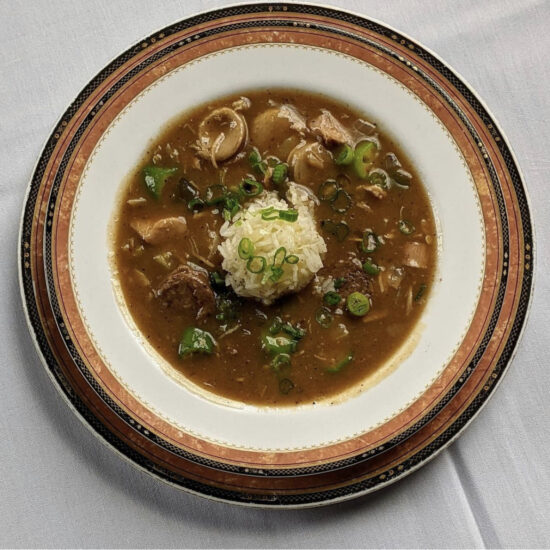 The Refectory isn't holding back with their Mardi Gras menu this year. Each three-course meal comes with a few different options per course and I'd be hard-pressed to pick between them. Standout menu items include New Orleans hunters gumbo, a Cajun jumbo lump crab cake, crawfish etouffee, a Creole smoked pork chop, and warm brioche bread pudding with bourbon sauce. This meal is $45/person. Available for pick up on a range of dates through the end of February. Must be ordered online at least one day in advance.
The Kitchen has two Mardi Gras options this year. First, they're offering a Mardi Gras Celebration kit that contains two mini king cakes, hot muffaletta dip with crostini, and your choice of 2 New Orleans inspired cocktails. They even throw in Mardi Gras masks & beads. The kit for two costs $45, or $25 without the cocktails. They've also selected Mardi Gras as the theme for their weekly Taco Tuesday menu, which will be posted on February 15th. Both options are available for pick-up on February 16th.
Ajumama has made a name for themselves in recent years by serving up Korean and Korean-inspired dishes—and arguably the best fried chicken ever served in 'Flavortown'. They've pivoted during the pandemic to offer weekly meals for pick up on Fridays and Saturdays. Their menu this coming week is Mardi Gras themed, which includes jambalaya ($45), blackened chicken ($45), veggie gumbo ($28), corn fritters with remoulade ($8), and a decadent-sounding bourbon bread pudding ($20). Each dish easily serves 4. All orders must be placed by Tuesday night (Feb 16th) for pick up at the Food Fort on Feb 19th or 20th. Contact Laura at ajumamacbus@gmail.com for more details.