Sunday Specials in Columbus
Traditionally the least popular dining out night of the weekend, Sundays in Columbus have a new lease on life. Increasingly restaurants are offering special menus of exceptional value and creativity that bring the evening new excitement. We've compiled a list of 8 restaurants with enticing offers to lure you out on Sunday.
The Market in Italian Village had a complete overhaul during the pandemic and if you haven't been since before 2020, you owe yourself a visit. Their Sunday Supper is a 3 course dinner for $35 offered from 5-9pm. There's a choice of 5-6 appetizers and entrees and a couple of desserts. More details here.  They also have 1/2 off bottles of wine.
Cleaver's Sunday night concept is 'Sunday Must Go' where they offer a menu of dishes that are available for one night only. Offerings vary weekly and have included everything from the beef bacon sandwich in the photo to house made sourdough rye pasta and matzo ball soup. You never know what you'll get and that's half the fun.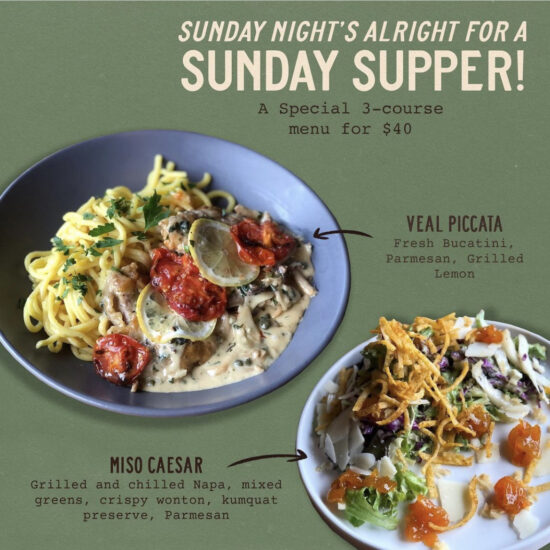 Watershed Kitchen and Bar offers a different Sunday Supper each week with a choice of 2 entrees, apps and desserts. The three course menu is $40 and the menu is posted on Instagram and emailed to newsletter subscribers. Recent themes have included the Italian inspired menu above, German schnitzel, smokey game hen and breakfast for dinner.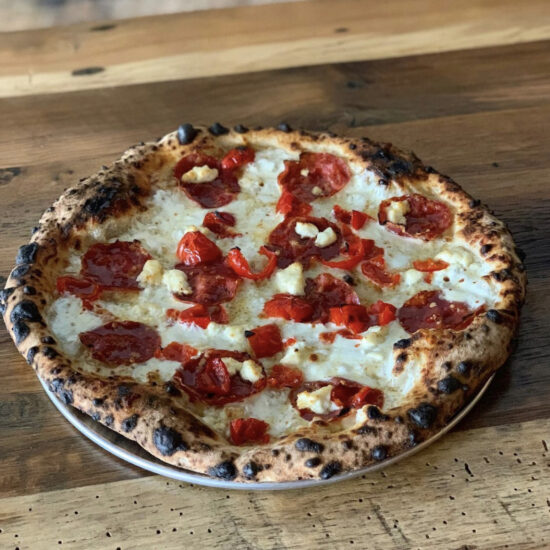 Paulie Gee's is one of our favorite pizzerias. On Sunday nights they offer a Sweatpant Special on Sunday nights which includes any two wood fired pizzas and a salad for $40. It's available for dining in only.
Boodle Night at Bonifacio is available on both Thursday and Sunday night. It's a fun interactive way to eat with food piled family style on banana leaves and eaten with ones hands. Items are offered a la carte with a wide choice of proteins and vegetarian options. Save some room for dessert though, they have a Halo Halo bar dessert that serves 3+. Menu link here.
Barcelona Restaurant in German Village has a long tradition of offering retail price wine on Sunday evenings. This special pricing is available every day for carry out sales but on Sundays only for dine in. Although they don't have a special food menu on Sundays they do have a $65 prix fixe menu available every day.
The Whitney House in Worthington offers different daily specials every day. Their Sunday feature is fried chicken which is one of their original menu items. The fried chicken was chosen for Sunday because they couldn't think of a more appropriate dish to celebrate the spirit of Sunday family dinners, the kind where all your friends and loved ones gather together to celebrate getting through another week and discuss the plans for the week to come. It features two pieces of light meat and two pieces of dark meat chicken, brined and
fried to a golden crisp, finished with our signature cinnarachi sauce (a blend of honey, cinnamon, and sriracha sauce). House-made Tillamook cheddar mac & cheese and sautéed broccolini accompany the dish for a perfect Sunday comfort meal.
Rooh is offering a special collaborative dinner on the 1st Sunday of every Month. Launched in March, collaborations so far have been with High Bank Distillery and Veritas. The number of courses and event timing varies each month so stay tuned to see what May's collaboration will be.
Please note that holidays such as Easter and Mother's Day may impact the availability of these special offerings.